Country of Turkey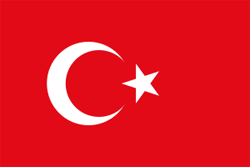 Conventional long form: Republic of Turkey
Conventional short form: Turkey
Local long form: Turkiye Cumhuriyeti
Local short form: Turkiye
Geographically, the country is located in the northern half of the hemisphere at a point that is about halfway between the equator and the north pole, at a longitude of 36 degrees N to 42 degrees N and a latitude of 26 degrees E to 45 degrees E. Turkey is roughly rectangular in shape and is 1,660 kilometers wide.
Because of its geographical location the mainland of Anatolia has always found favour throughout history, and is the birthplace of many great civilizations. It has also been prominent as a centre of commerce because of its land connections to three continents and the sea surrounding it on three sides.
Area
The actual area of Turkey inclusive of its lakes, is 814,578 square kilometres, of which 790,200 are in Asia and 24,378 are located in Europe.